4 Facts You Need to Know About the Hyundai Santa Fe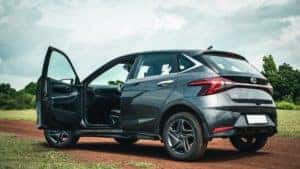 Hyundai is one of the world's leading car manufacturers, and the great thing about them is that they have lots of cool models under their wing. For example, if you're looking for a new SUV, the Hyundai Santa Fe will surely not disappoint.
1. It Has a Comprehensive Suite of ADAS
If you're looking for a new SUV and like the idea of driving in luxury, the Hyundai Santa Fe is just right for you. It's a great car to drive, with a tall center console that offers a comfortable driving position, great visibility and an excellent suite of safety features. In fact, it even has a full suite of ADAS (Advanced Driver Assistance Systems).
The great thing about the Hyundai Santa Fe's ADAS is that they aren't intrusive and will help you stay on the road safely without you even thinking about it. For example, the vehicle has:
Smart Cruise Control

Lane Keep Assist

Pedestrian Detection

Blind Spot Detection
2. The Santa Fe Makes Driving Fun and Effortless
The Hyundai Santa Fe has a large cabin that offers a lot of space for you and your family. It also has large windows and a big sunroof that allow in a lot of light and makes driving a pleasure.
Its large cabin also means that there's plenty of space for your passengers to stretch their legs without having to squash people's knees.
The Santa Fe is powered by a 2.2L GDI I4 engine that produces 175 horsepower, paired with a 6-speed automatic transmission. It helps you drive smoothly and effortlessly while also delivering excellent power when you need it.
3. It's Fuel-Efficient
The Hyundai Santa Fe is a fuel-efficient SUV, but it's also quite powerful. It has fuel consumption ratings of 10.2/7.1/8.1L/100 km in the city/highway/combined cycle.
Its fuel consumption rating is equal to that of the Toyota Highlander, but we must say the Hyundai Santa Fe is more powerful. The Santa Fe has a transmission that uses elements of Hyundai's original Alpha platform that allows the engine to run at a variable speed. The engine runs at a low speed when you need acceleration and a higher speed when you need more power. This technology helps increase its fuel economy by around 15 percent compared to previous models.
4. It Can Assist You in Parking
The Hyundai Santa Fe has an available rearview camera that offers a bird's eye view of the surroundings behind the vehicle. If you have to back up on a sloping driveway, for example, the rearview camera will help you stay on the driveway and avoid hitting any objects around you. It will also provide a clear image of the parking spot when you're trying to park.
Parking Assist is an available system in Hyundai Santa Fe that helps you park the vehicle by parking in forward/reverse. In forward/reverse parking, the vehicle moves forward and backwards while you retain control (you don't need to use the accelerator or the brake pedals).
Final Thoughts
The Hyundai Santa Fe is a sporty and luxurious SUV that offers excellent handling and a great performance. If you're looking for a family vehicle that can double as a fun car for weekend joyrides, the Hyundai Santa Fe is a great choice. It's fun, spacious and most importantly, safe.
Start driving your own Hyundai Santa Fe with the help of Ajax Hyundai. We are Hyundai dealers in Ontario, providing outstanding service and competitive prices. Our dedicated sales staff and top-trained technicians are here to make your auto shopping experience fun, easy and financially advantageous. Call us today!